An industry leading cloud-based time and attendance solution software that improves the efficiency of your employees every day.
With TimeWorks Plus you do not have to choose between features and ease of use, you get both. Time clocks are plug-and-play and businesses are up and running in minutes. Employees are empowered with the Employee Self Service that allows them to be part of the solution; have access to view and approve their timecard, review paid time off availability, and easily request time off approvals.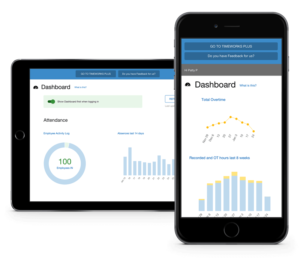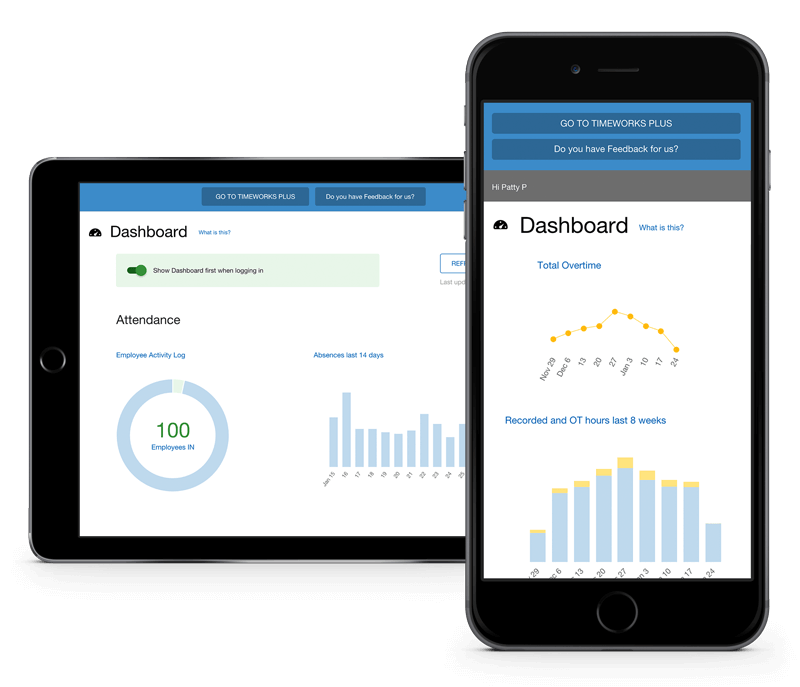 Access – Everywhere
TimeWorksPlus 'user-friendly timekeeping portal and mobile app it easy for employees to manage themselves and for time and attendance administrators to manage the workforce. Supporting devices for TimeWorks Mobile include iPhone, iPad, Android and tablets.
Manage Your Workforce – Anytime, Anywhere
At its core, TimeWorksPlus is a highly customizable online time and attendance solution that allows small to medium-sized companies to track employee hours, electronically approve time cards, view real-time data, and create reports. This helps employers to cut administrative time, reduce human error, control labor costs, and provide accurate timekeeping records – as required by local, federal, and national labor department rules and regulations.

Everywhere Access
The WebClock interface enables employees to clock in and out, check their schedules and manage their time cards from the convenience of any web browser.
Absolute Flexibility
TimeWorks' Mobile app allows employees to clock in and out remotely using any mobile device.
Allows employers to manage employee time and schedules from almost anywhere.
All-around Empowerment
The TimeWorks Plus Mobile app gives employees complete freedom to punch and manage time from wherever they are while providing supervisors perfect visibility; who's early, who's late and who's absent—and where they were when they clocked in. With this type of visibility employees become more accountable and productive.
TimeWorks Plus & TimeWorks Mobile Resources:
App Download – TimeWorks Mobile
The Download for iOS can be found here: iOS download.
The Download for Android can be found here (for android versions 2.3.3 or later): Android download.
Basic Features – TimeWorks Mobile
Follow this link for a short video review of the basic features of TimeWorks Mobile
Advanced Features – TimeWorks Mobile
Follow this link for a short video review of the advanced features of TimeWorks Mobile
Client & Supervisor Overview – Timeworks Mobile
Follow this link for a short video review of the TimeWorks menu options available to those with a supervisor or client level login.